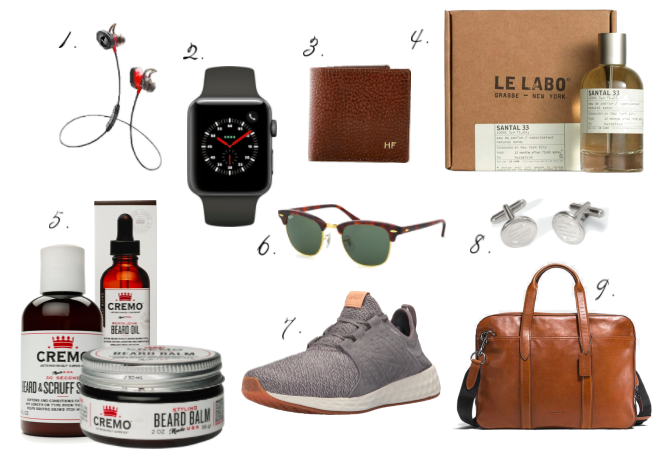 I don't know if you are keeping track, but Valentine's day is NEXT week! I'm flying in at the last minute to share a few of my favorite Valentine's Day picks for that man in your life! If you missed my Valentines Day Gift Guide for Her, you can find that here.
Valentines Day Guide Guide for Him 
1. Beats : These Beats Wireless Headphones are the perfect gift and are at the top of Brian's wish list. Whether he is at the gym or listening to podcasts as he works, this is a gift that any guy would be happy to receive!
2. Apple Watch: If he doesn't have one yet, I highly suggest the Apple Watch. The series 3 is water proof and would be a great for that active guy on your list!
3. Wallet: I'm a sucker for anything monogrammed. This embossed leather wallet from Mark and Graham is the perfect personalized gift! While you're there look around! Mark and Graham also offers many personalize accessories for men (I love the toiletry bags too!)
4. Santal 33: This is by far my favorite scent. It's woodsy and floral… sandalwood and Violet Accord… all mixed together perfectly. It's a unisex fragrance, but still very rugged. My brother in law wears this and I swear, every time I'm at thier house I sneak in his bathroom and steal some! It smells that good!
5. Beard Necessities : Brian has just started getting into beard oils and balms. This brand smells amazing and makes his beard so soft. I think this would make a fun, easy gift.
6. Ray-Bans: The Clubmasters are my go to guy shades. I love their JFK, chic vibe. Even if your guy is more of an outdoor, anything from chic guy, get him these glasses. I promise they work for anyone!
7. Sneakers: I like the idea of having everyday sneakers and then gym sneakers. These are a great example of everyday sneakers. Ones that he can pair with slim jeans, an untucked button down and Patagonia vest just a easy as he could wear them with joggers and a tee.
8. Cufflinks: These monogrammed Cufflinks are a must. Brides, how cute would it be to gift these to your groom on your wedding day?
9. Leather Briefcase: This Leather Bag is one that he will be able to use for years to come! The style is classic and the embossed monogram is a fun added touch.
Shop The Post:

Missed my Valentines Day Gift Guide for Her? Find it Here.