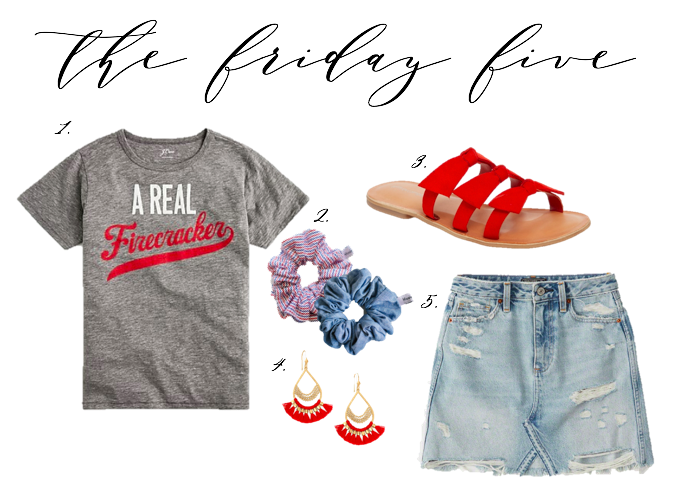 Good morning, girls! Welcome to another edition of The Friday Five; a fun series where I'll share my top 5 favorite things I'm loving on the internet each week! Admittedly, this week's Friday Five got a little themey, but with the Fourth right around the corner, I thought it would be ok just for this week!
The Friday Five
Firecracker Tee: I love a good graphic tee and this one is perfect for all of your Fourth of July plans! It's also 50% off right now!
Micale | Lynn Scrunchies: You all are probably familiar with Micale | Lynn Scrunchies (I did designed a scrunchie for them in the Fall), but if you are not, let me introduce you to my sweet friend and her super fun company! I've found that scrunchies hold my hair the best with my NBR Extensions and don't leave that annoying crease when I take my hair down! I'm obsessing over this Chambray one!
Red Bow Sandals: I've had these sandals in my cart for a while! I think they are the sweetest, especially that bow detail! They come in 4-5 different colorways and are under $60. 
Tassel Earrings: If you're looking for a statement earring that is lightweight and could carry you throughout the year… This is it. I wear these earrings with everything and bonus, they also come in white! (Under $40!)
Denim Skirt: If there was one thing you need this Summer, its a denim skirt. They've made a big comeback this year! This one is a is a great silhouette and price point.  
SHOP THE POST:

If you missed week's Friday Five you can find it here. Enjoy your weekend!