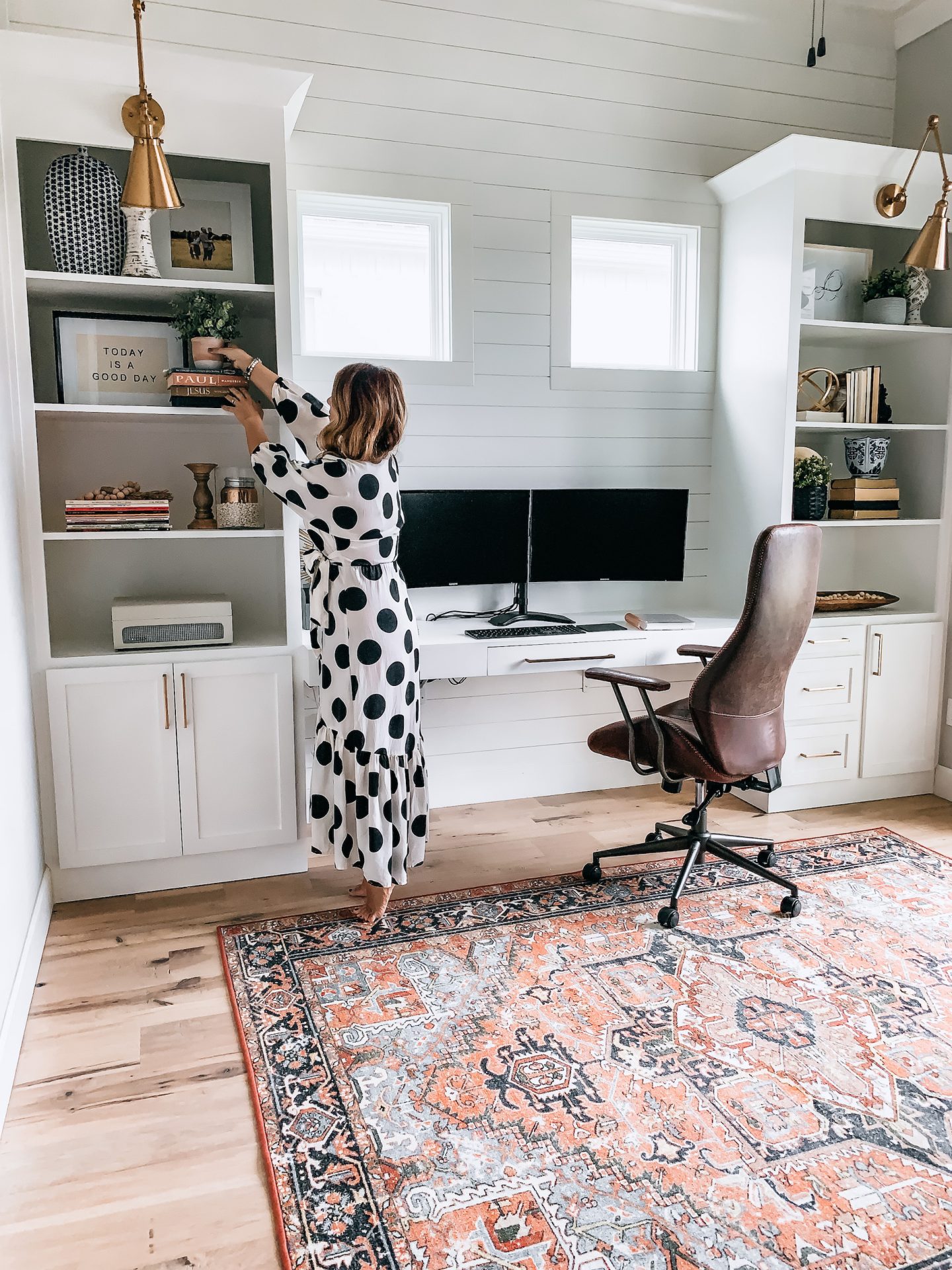 It's finally here! I am so excited to share the full reveal of our Home Office with you today! This space is every bit of what I had imagined and dreamed, it is just so fun to see everything come together so seamlessly! I'm honestly just so happy that we get to work in here and so thankful that Justin and the team at The Wooden Toolbox made it happen!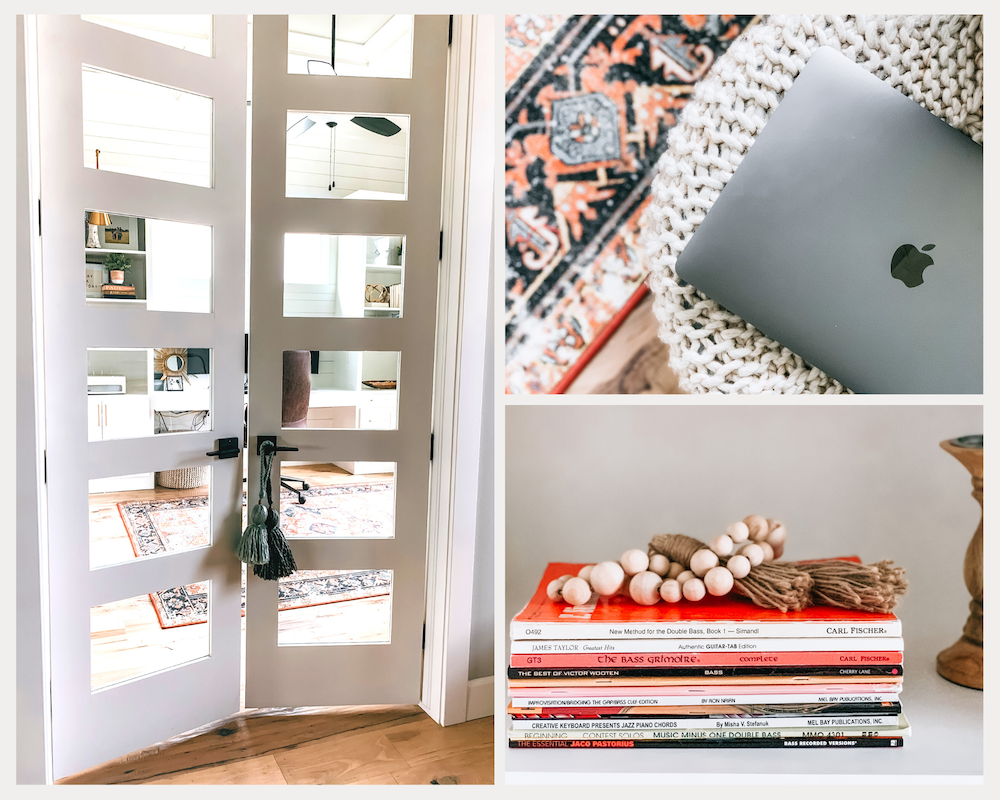 This office started out as a complete blank space. It was like a big gray box right of the front of our house and lacked any character and was just blah. Before we even had the papers signed, my brain was already spinning on ways to make this space feel a little more 'us'. We talked about doing built ins to create a functional workspace as well as a beautiful statement piece as friends and family enter our home, but we weren't sure where to start. We even thought about doing them ourselves (I'm thankful we didn't! This turned out much better! ha!) After asking my local readers, so many of you recommended Justin Wenzel, owner of The Wooden Toolbox. Justin was so great to work with, he came over to look at our space and give us a free quote. We showed him pictures and sketches of what we envisioned and he made it come to life! Before I share anymore, I want to show you the before… so you can get the total transformation and see what an incredible difference this built in has made in the space!


And here it is now! Eeeek! I am so in love with this space!! The built ins have totally opened up this room to create an inviting and airy workspace. I am so glad that last minute we decided to through a wrench in Justin's plan and asked him to shiplap the wall behind the cabinetry. Thankfully he loved the idea as much as we did and completely knocked it out of the park! We have this same detail in our living room, so not only does it brighten up the office, it also ties into the rest of the main living areas.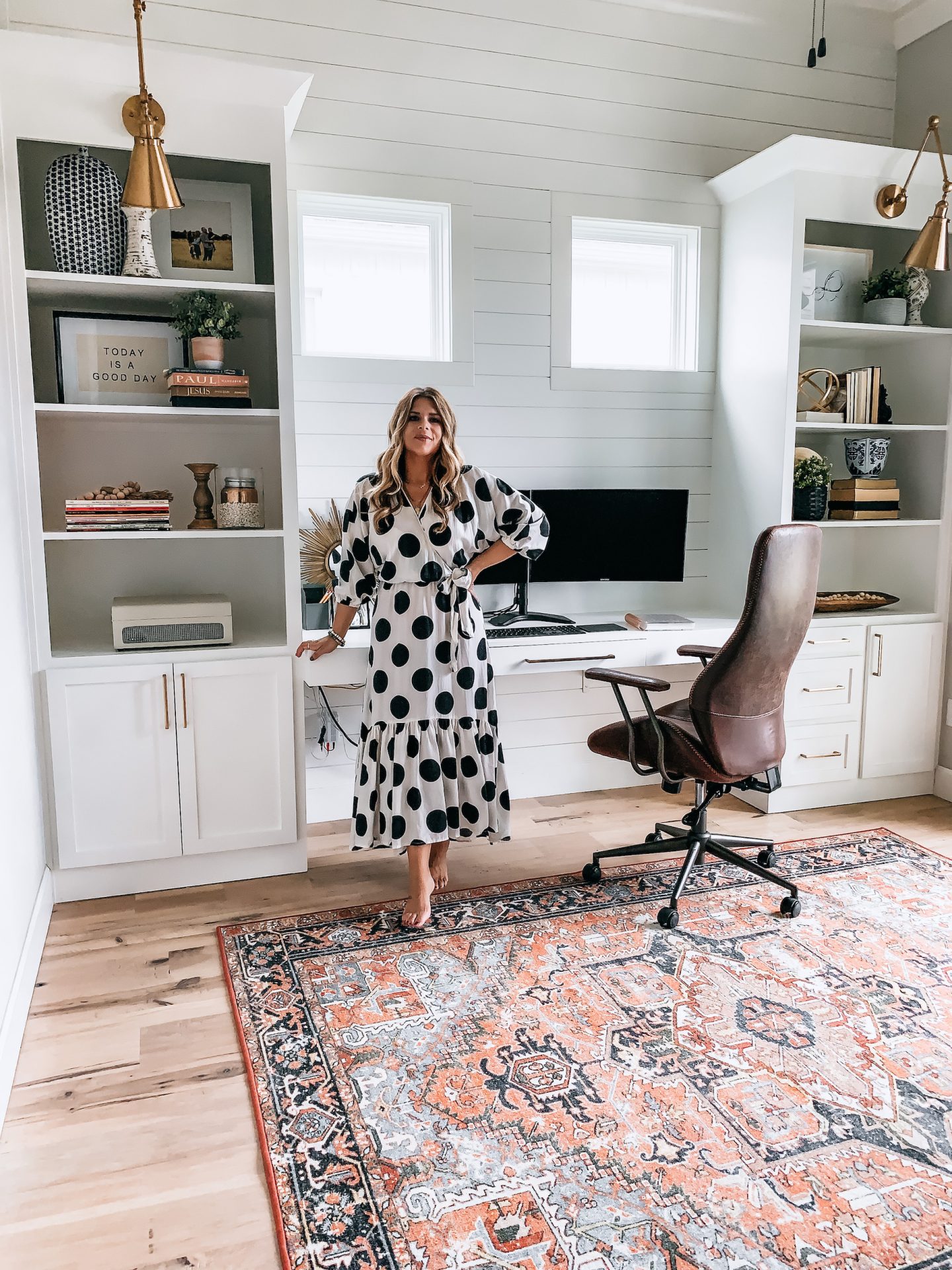 Brian and I are sharing this work space, so I wanted it to be a good representation of us both. I love the masculine touches of the deep brown leather chairs, warm colors and black accents (and gigantic computer monitors, but that comes with the territory!), mixed with the gold hardware and lighting. It's just the perfect amount of both of us in this space!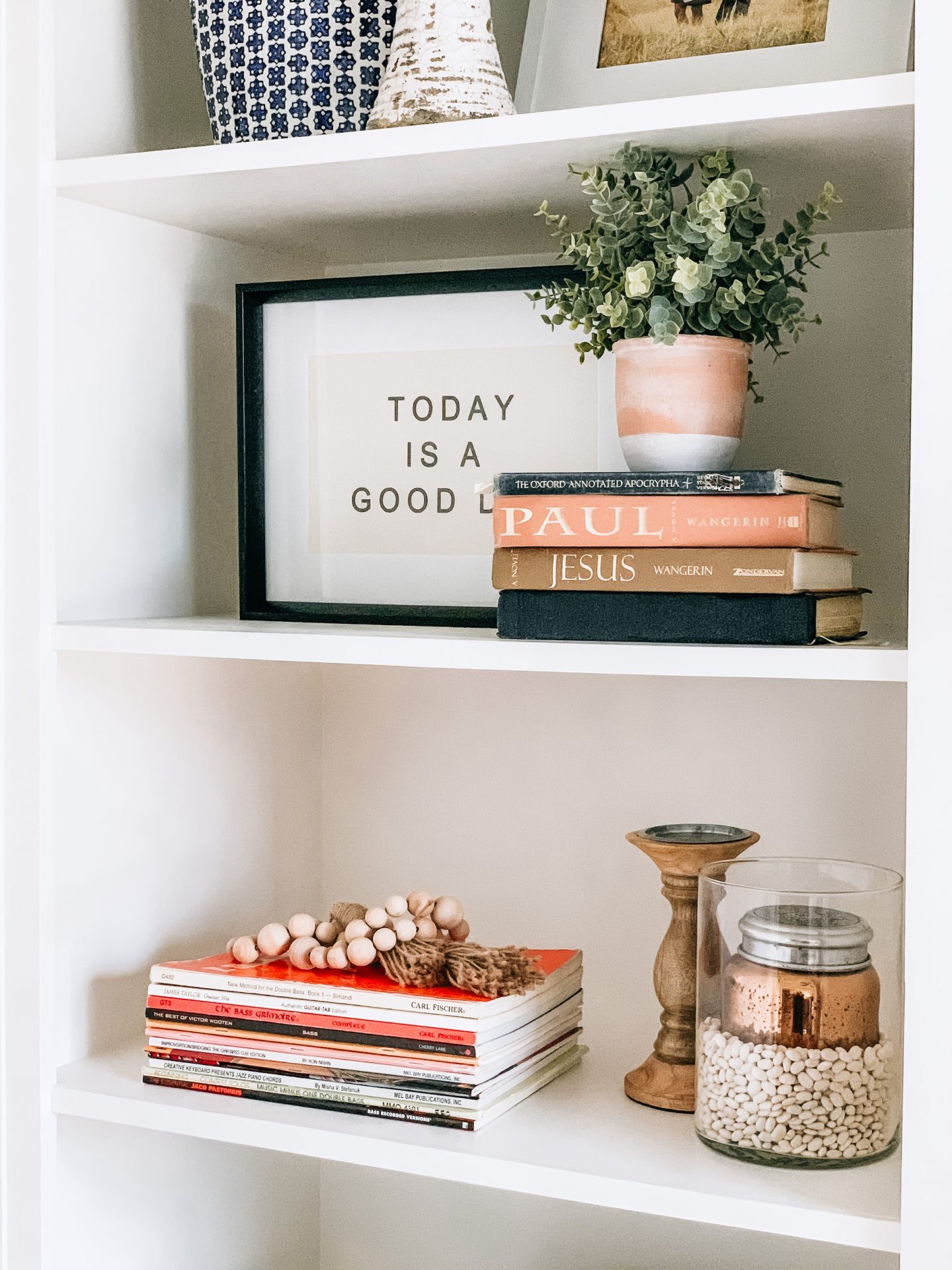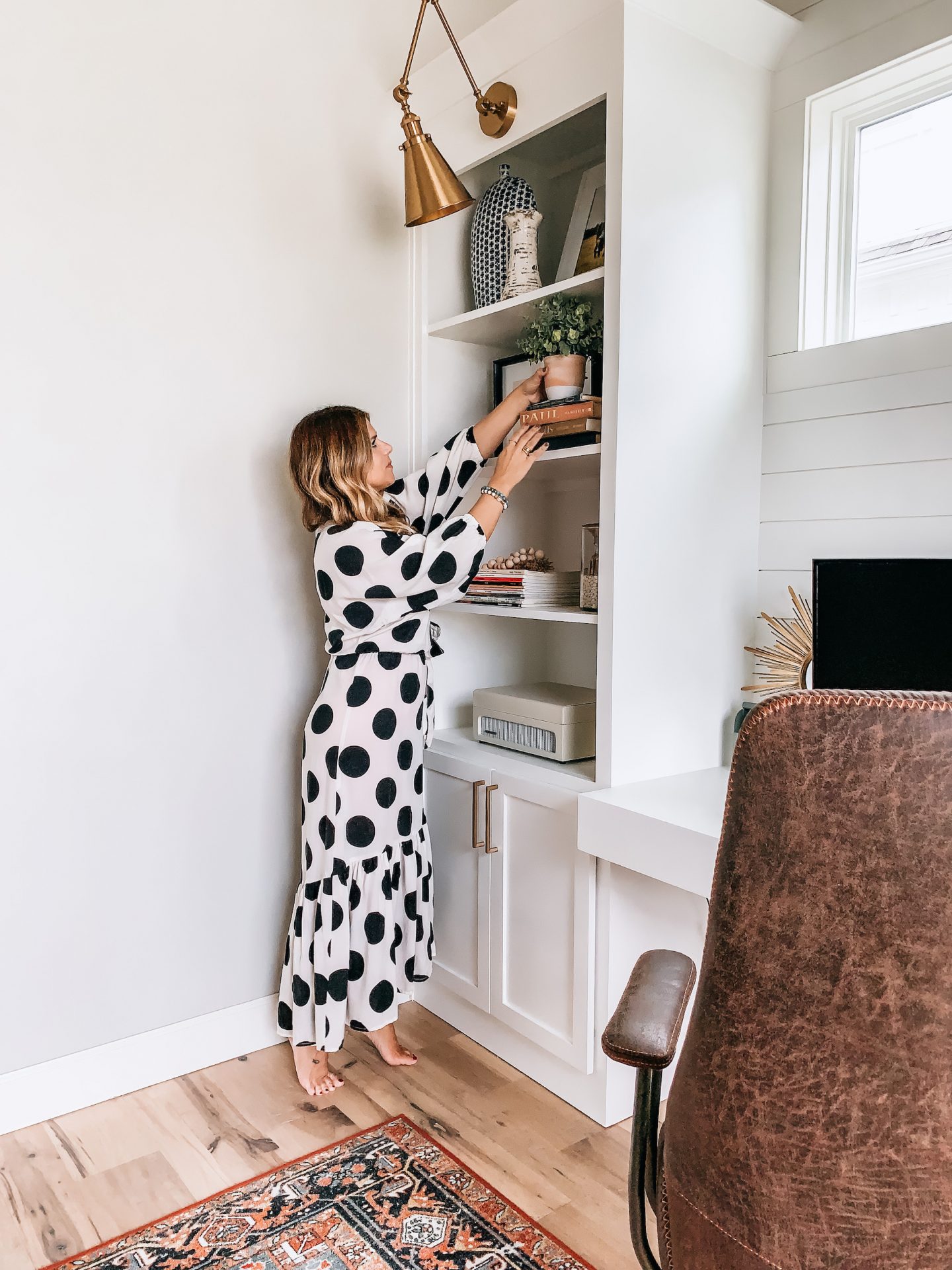 Shelf styling can be so intimidating, but it's one of my favorite ways to make a big statement in a space. My biggest tip with shelf styling; remove everything from the shelves and start fresh! I like to pick a color scheme use that as a starting point. Then I add as much texture as possible! I took some time to shop my house for this project, grabbing books, planters, and decorative items from different places throughout our home. This is also one of my top tips! Take an inventory of what you already have, so when you are out, you know exactly what you need to fill holes.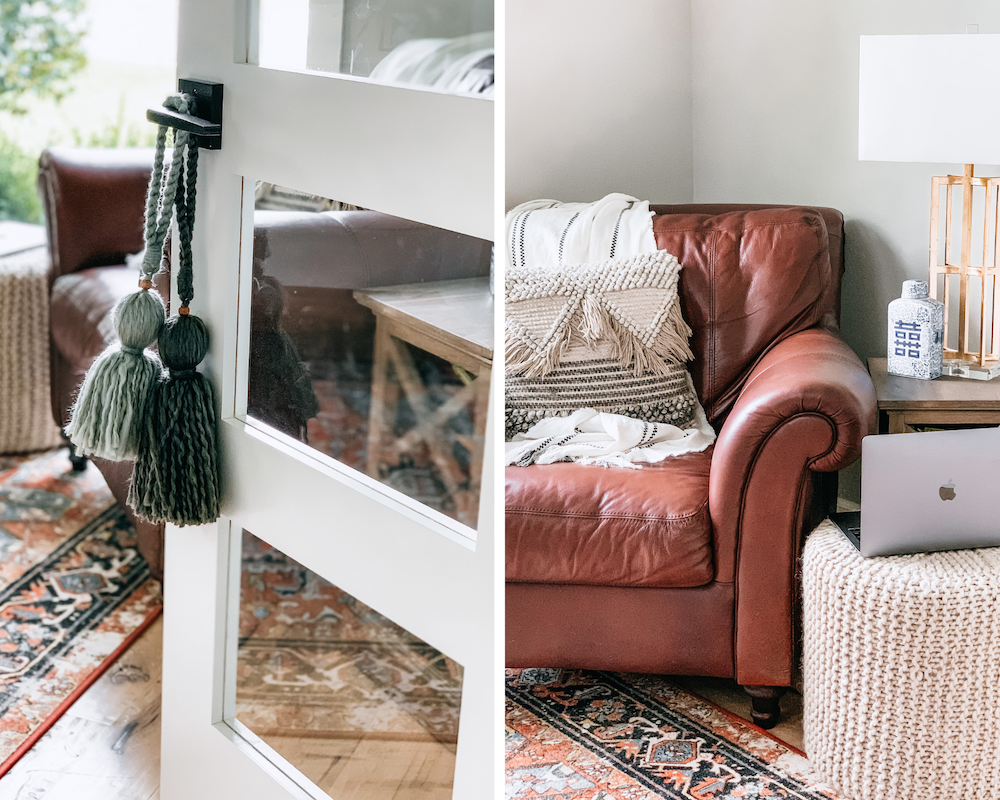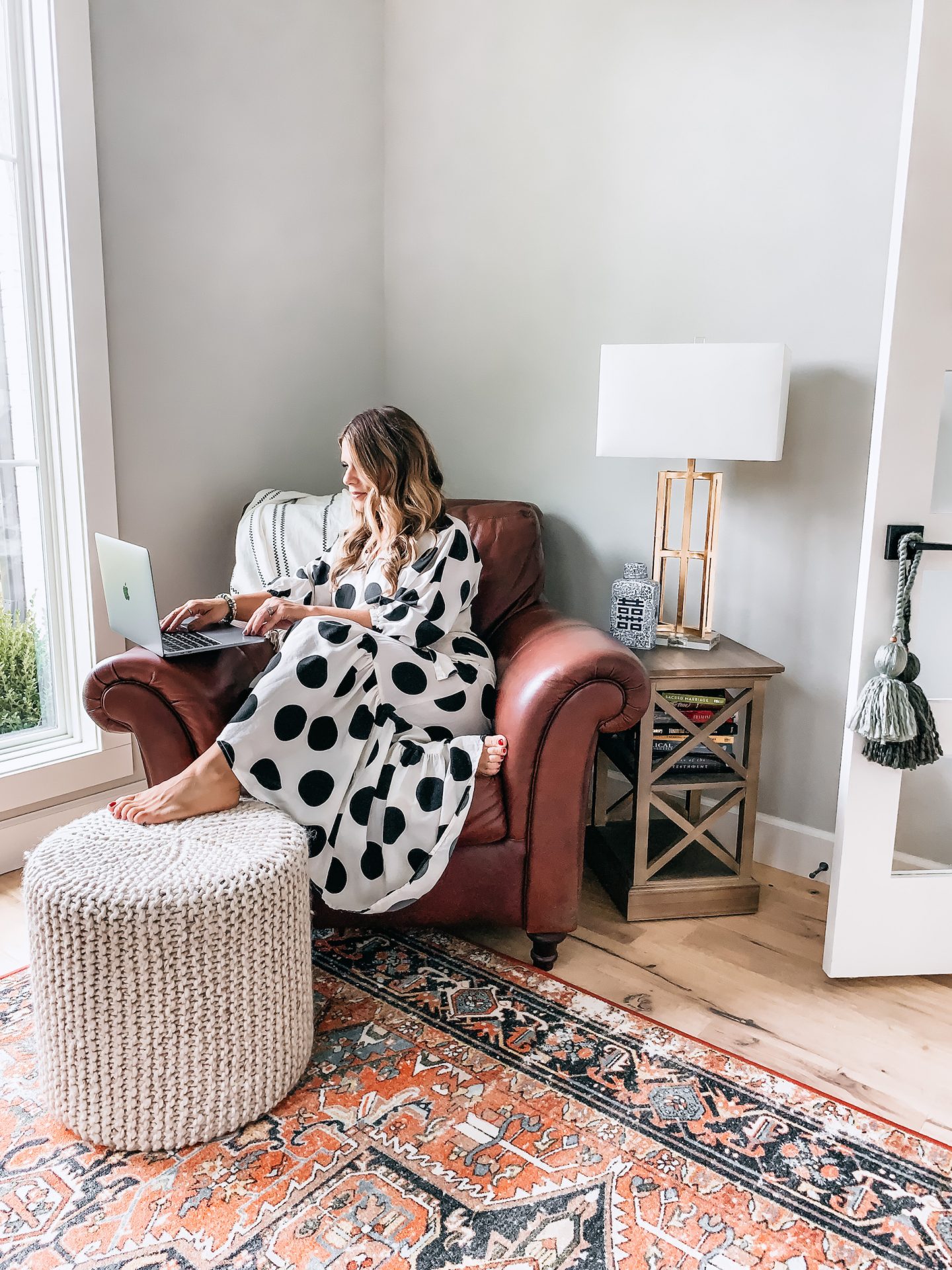 This chair is the one non-negotiable for Brian. It had to be in the office and I'm so glad I didn't fight him on it too hard, because it really is the best seat in the house!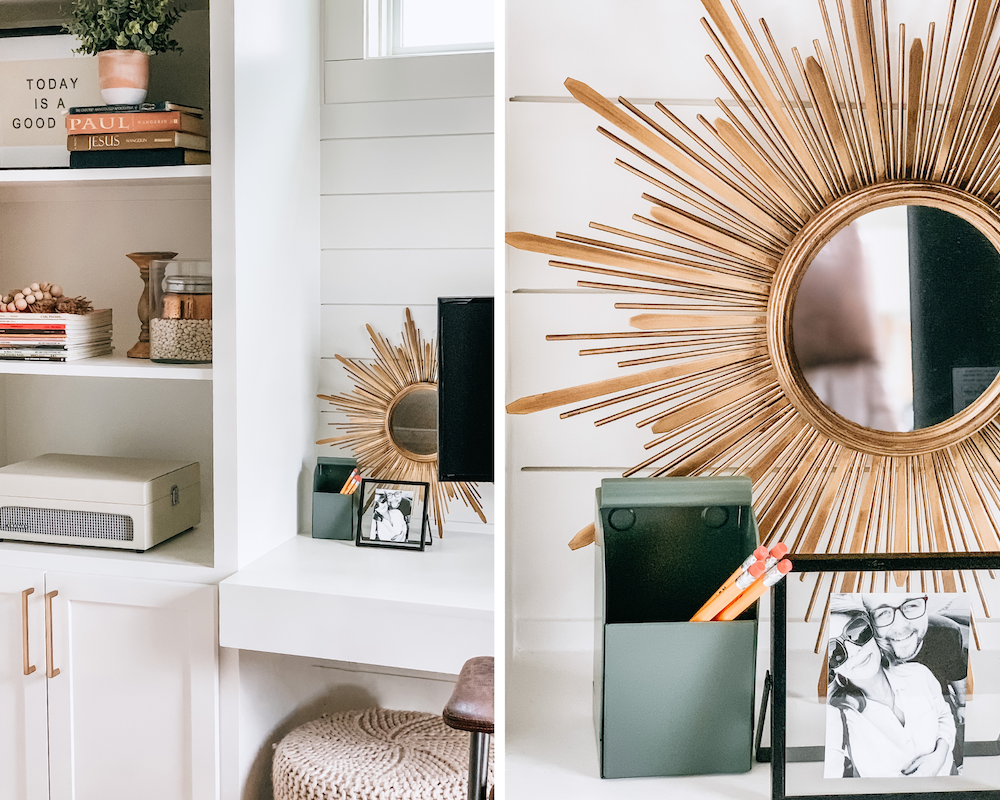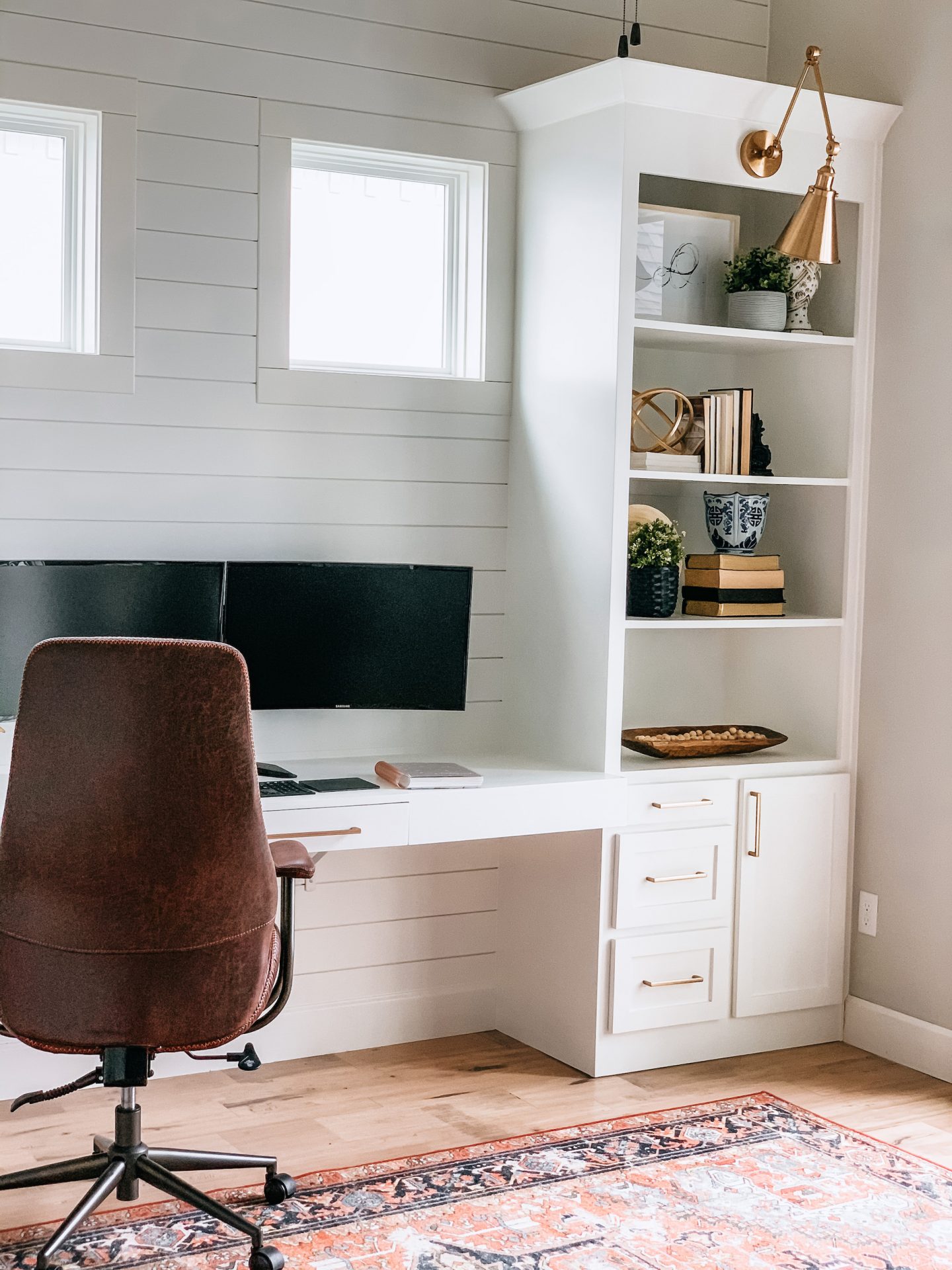 I can't get over the attention to detail and craftsmanship on this project! The Wooden Toolbox team had this full install in and completely done in about 3 days.  The guys were respectful, kind and efficient. We could not recommend them enough!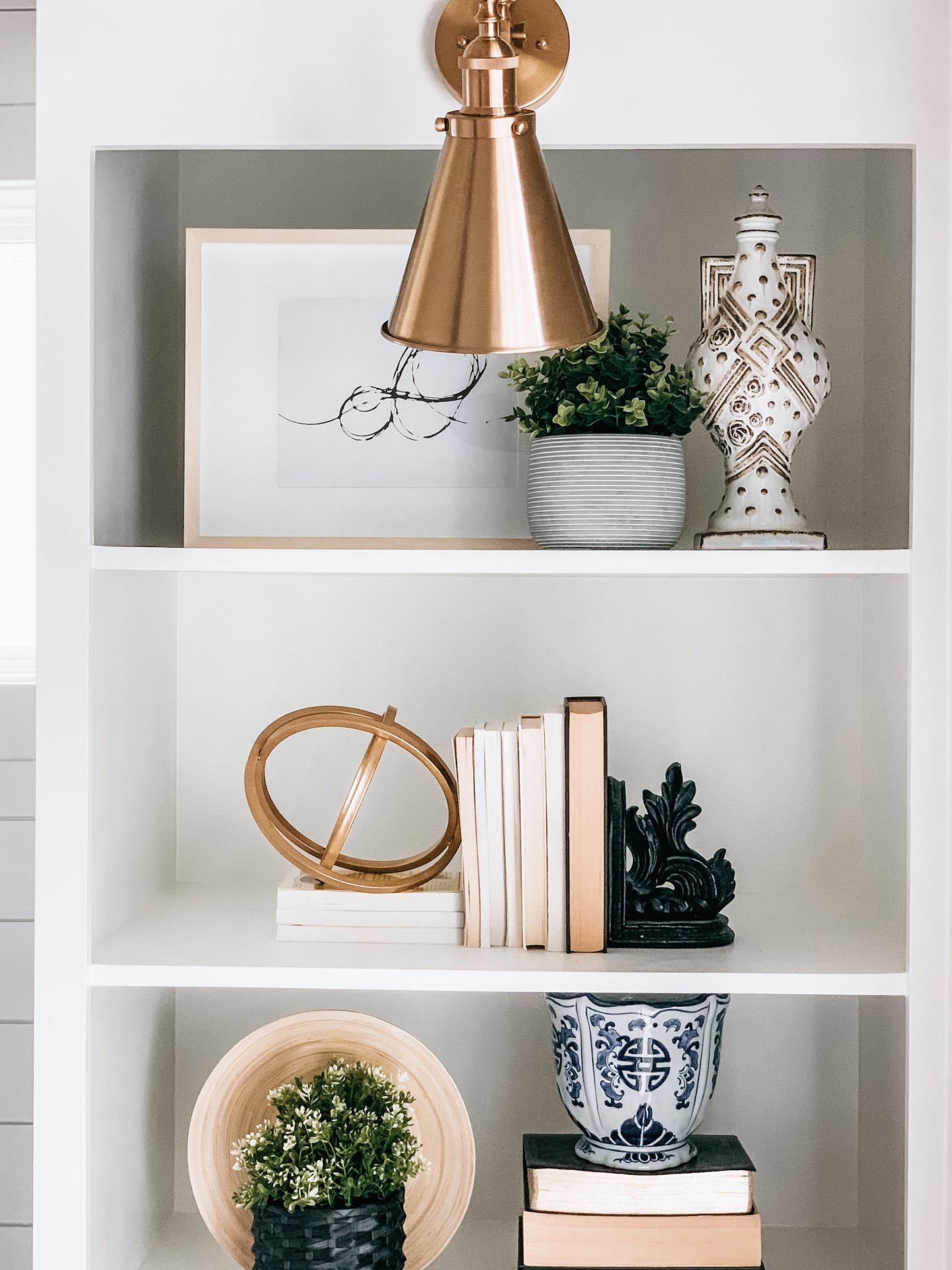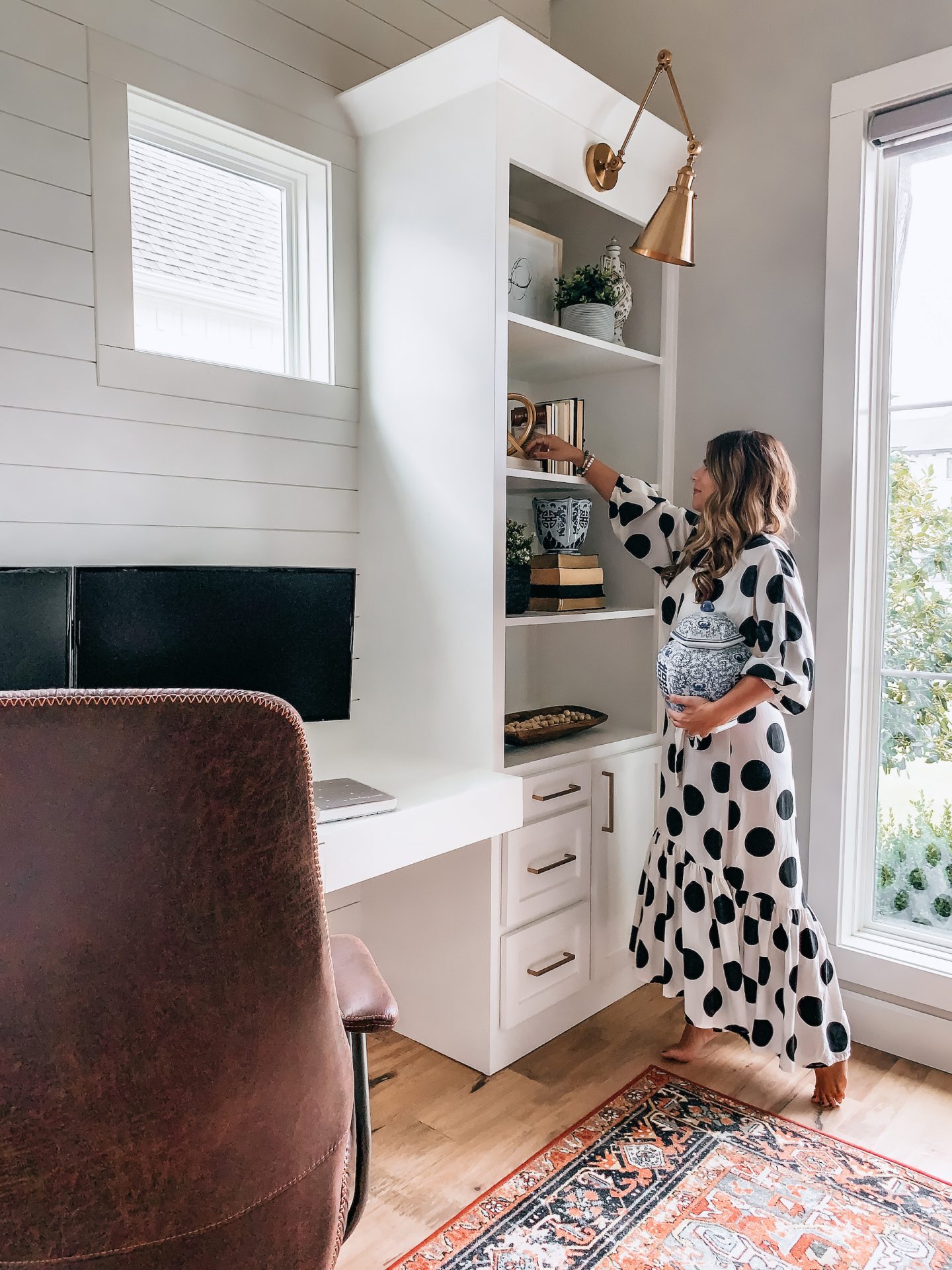 I hope that you all loved this reveal as much as I loved putting it together! It was such a fun project to work on and I can't wait to share more pieces of our new home with you as we continue room by room! Local readers, if you are looking for a local carpenter, please reach out to Justin Wenzel & The Wooden Toolbox! They do everything from customs, to remodels, to the most amazing porch swing (which is on my wishlist!), to custom furniture! Definitely give them a call or message them on social (@thewoodentoolbox) and tell them I sent you!
SHOP THE POST: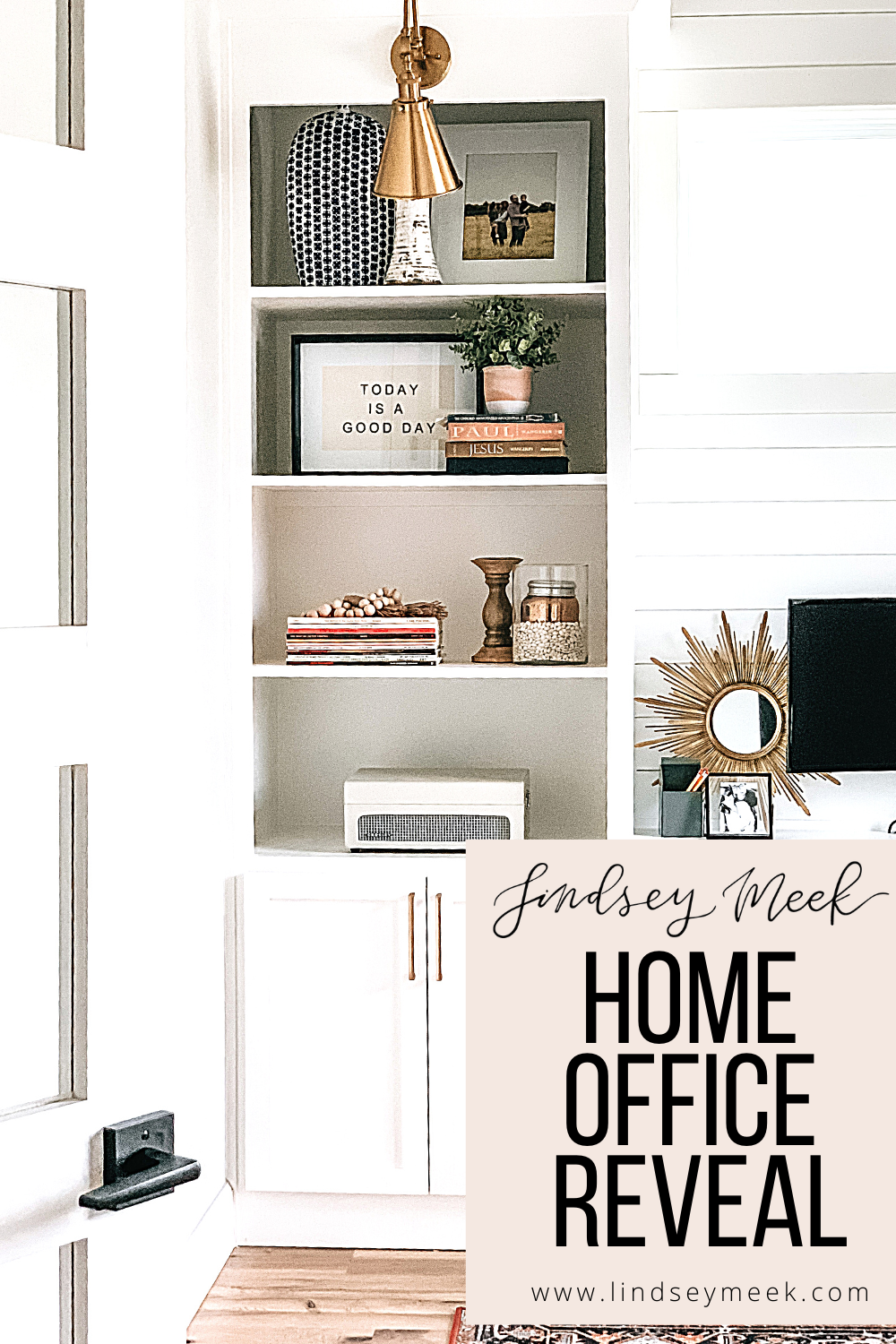 *This post was created in partnership with The Wooden Toolbox, but all thoughts and opinions are my own. Thank you for supporting the companies and brands that keep lindseymeek.com going!