*This post has been updated with current shopping links.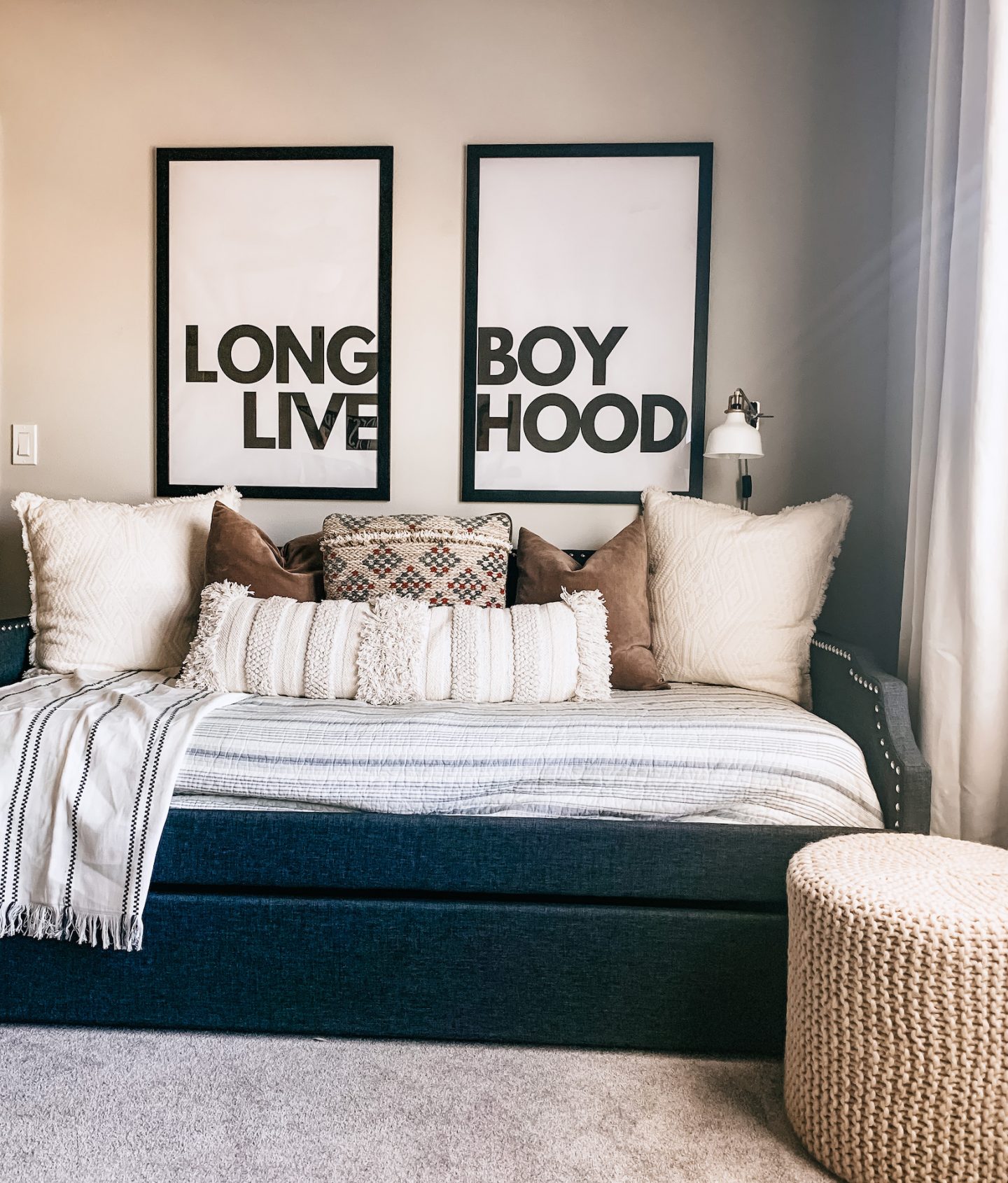 Since moving into the new house in June, I have slowly been putting together my vision for each space. I think I have every room about 70% done and thats driving me insane! I'm so ready to get these spaces put together and to feel like we really live here, you know? I am so thrilled to have Brother's room  finished and to share it with you today!! I knew I wanted to give him a more polished, mature room this go round. Something he could really grow in to, but still harnessed his little boy vibe.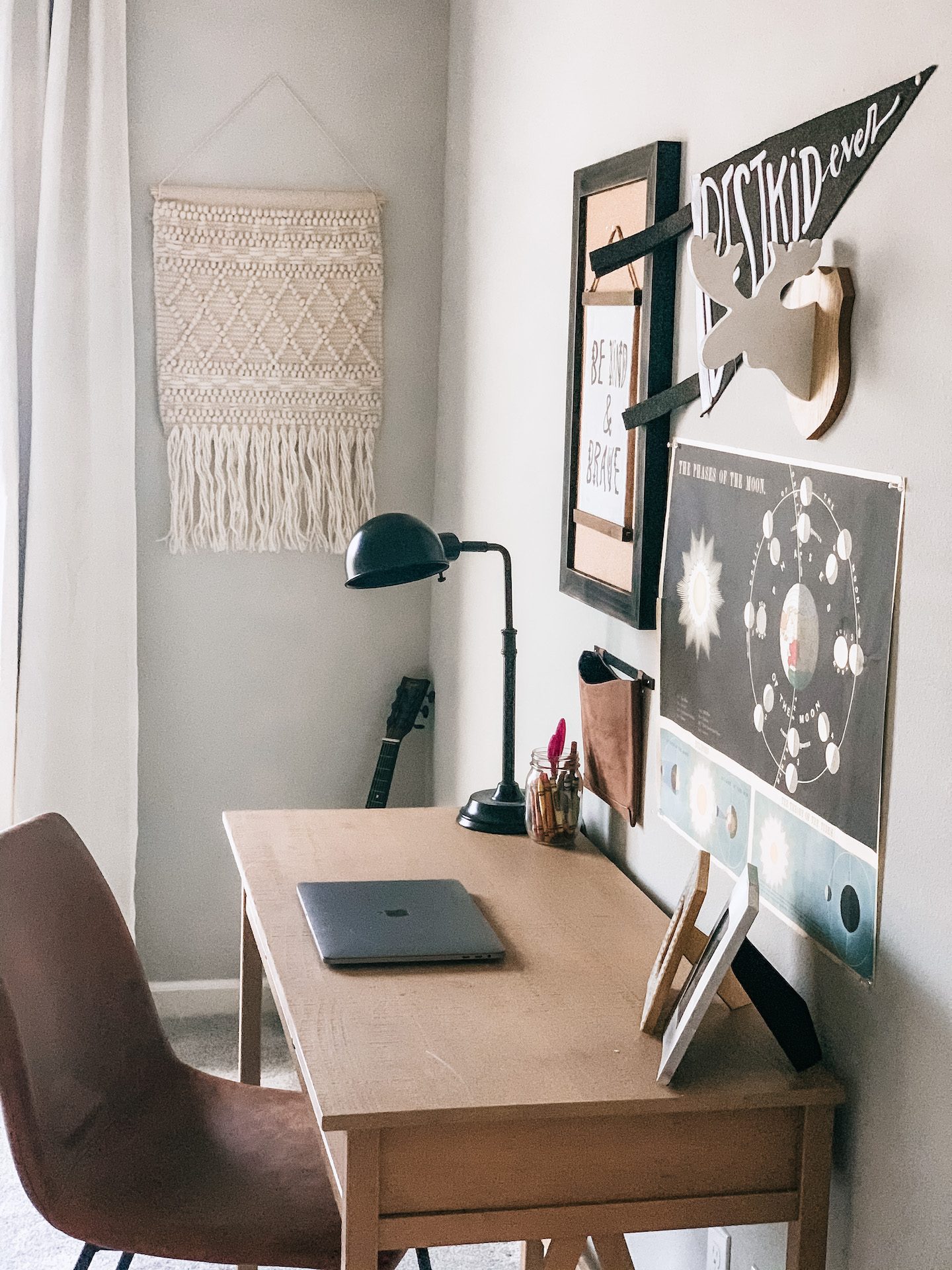 2020 has proven to be the year of curveballs, but one thing that looks imminent is distance learning this Fall. I searched high and low for a desk that was affordable, functional, not too bulky, but also didn't look cheap. Whew. That was a heard search, but I was so thrilled when I found this one for under $200. It is since sold out, but Im linking similar below! I knew I wanted a wood desk to balance out all the upholstered pieces in his room. This desk and the addition of this faux leather chair, adds the perfect amount of texture to this space!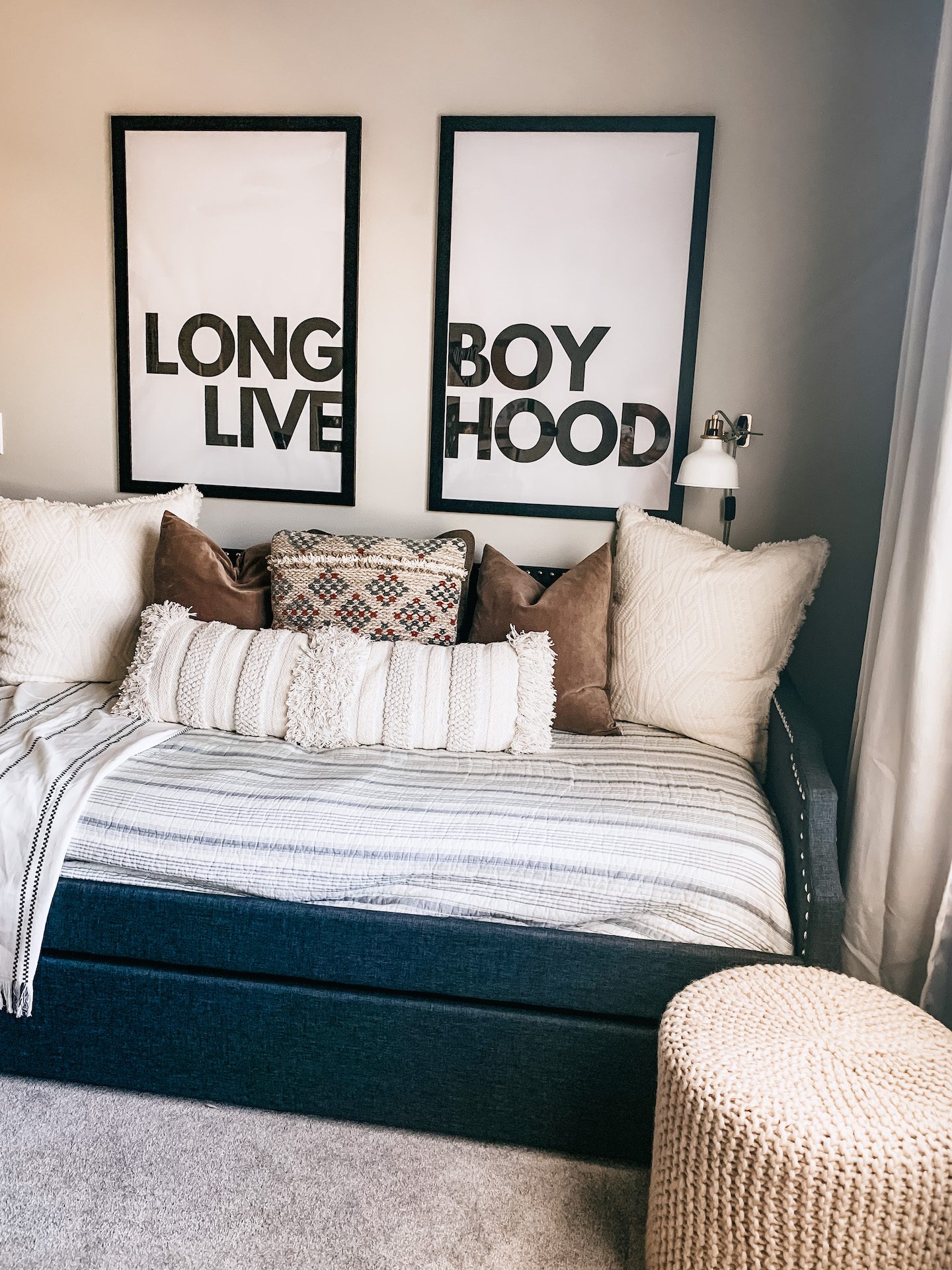 These oversized prints are actually a DIY and super simple! After perusing Pinterest for inspiration, I found these little 'Long Live Boy Hood' prints and knew I wanted to create a large scale print using this theme over his daybed. The upholstered daybed feels pretty formal, so I think these oversized prints balance the space. Scroll down to the bottom of the post fo this DIY!
His bedding is a mix of Homegoods finds, H&M Pillows and Target sheets! Funny story, I actually reached out to a bedding company that I thought would be a great fit in this space and they denied my inquiry because I didn't have enough followers on Instagram (blah), but Im actually very glad that didn't work out because I am able to share with you that you can recreate that look for a very small fraction the price! You may just need to head to your local Homegoods or Marshalls to source a good $30 stripe quilt!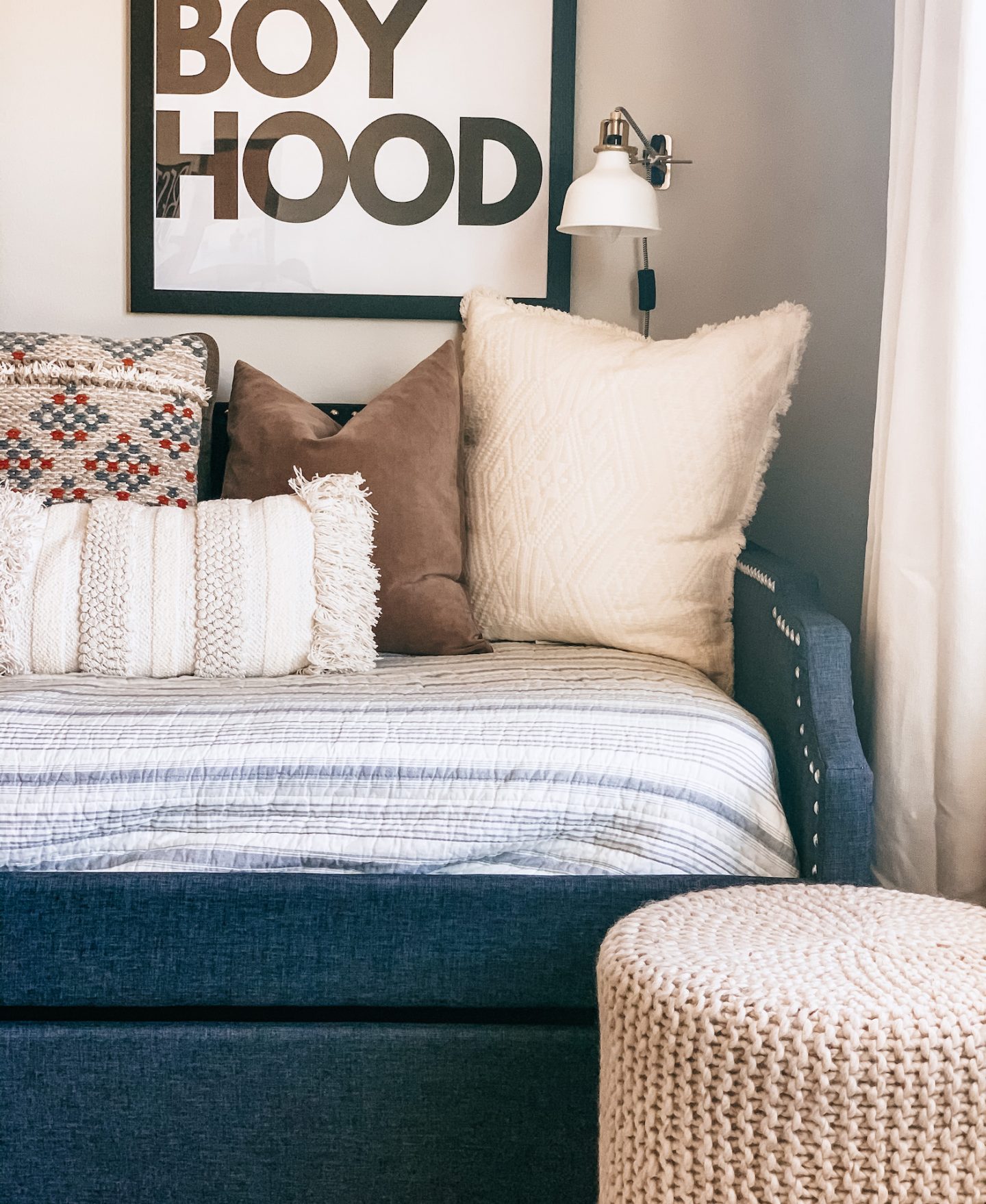 I love mixing textures and prints. I think it adds a ton of dimension, which makes your space look more custom and unique! Less like you just ran into Target and grabbed a bed in a bag, you know?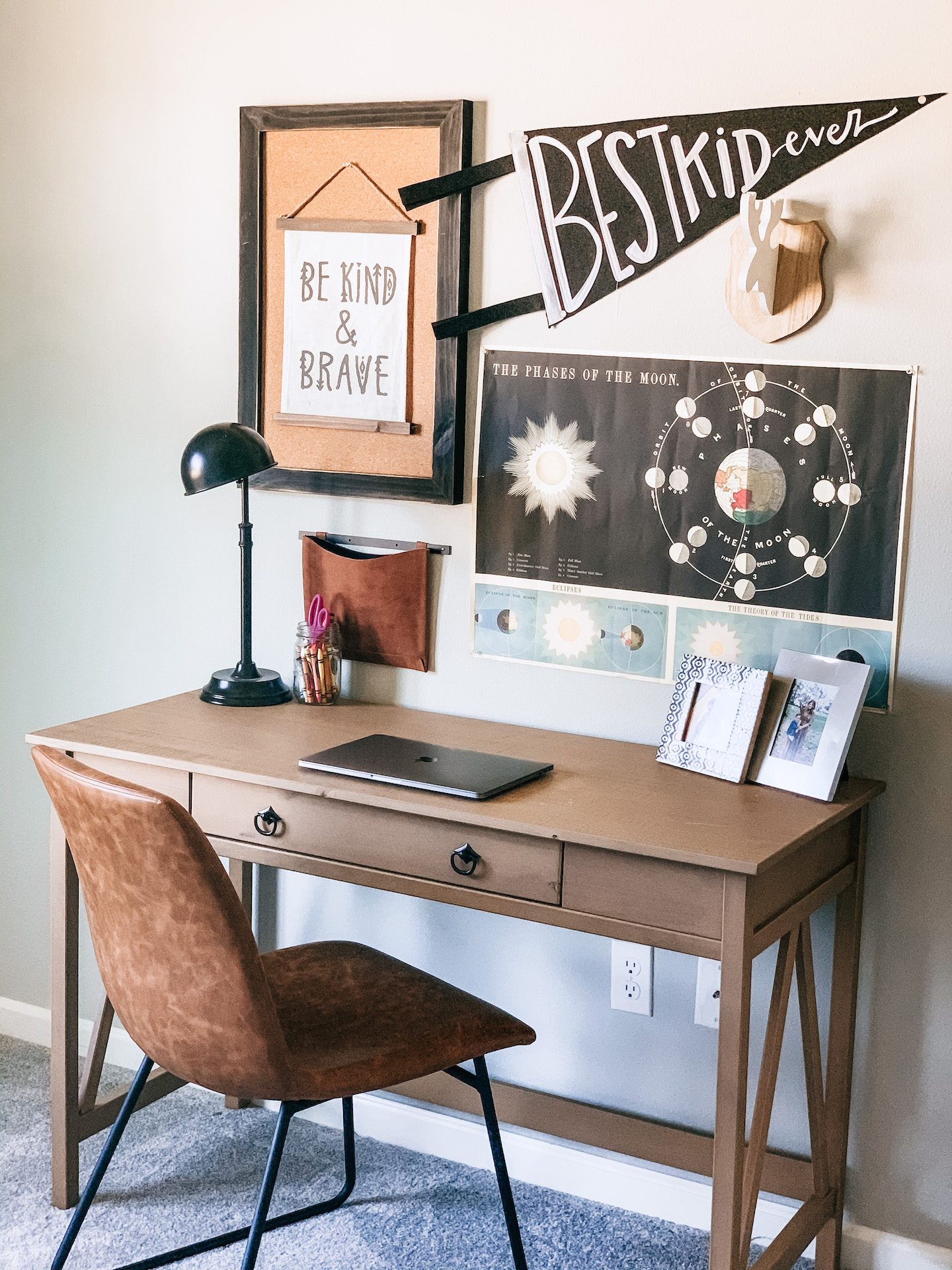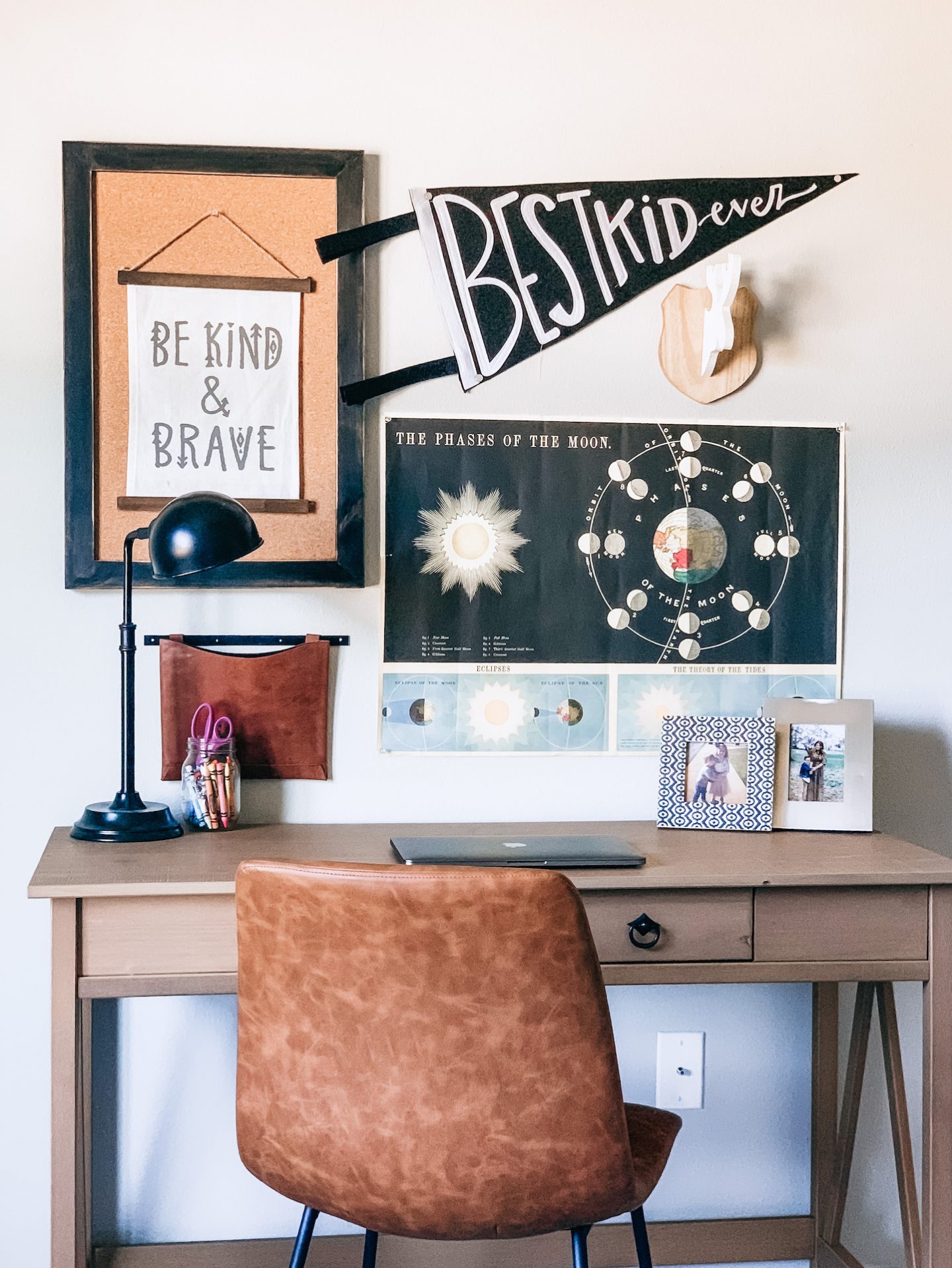 I tried to keep his desk clean and clutter free to hopefully keep his attention while he is doing school! A lot of these pieces were Hobby Lobby finds and again, I love how it layers colors and textures in this space!
SHOP THE POST:

---
---
LARGE SCALE PRINT DIY
This is such an easy, simple project that know you will love and hope that you recreate! Once I decided on my wording I created the image using Canva. I have canva pro, but I don't think you need it for this project! Simply choose 'poster format' and pick your font. I tried to go as clean as possible for the font on this project. Once I had it just as I liked it, I downloaded the file. Now, you can print these from anywhere… but I 100% recommend Staples. I uploaded the files to their site and printed them as BLUEPRINTS- black and white 24×36 print. They were only $7 to print! That's insane foe this scale! This also works for black and white photos and they turn out so cute and are so inexpensive!  I purchased two wood poster frames from Michael's and did this whole project for under $60!