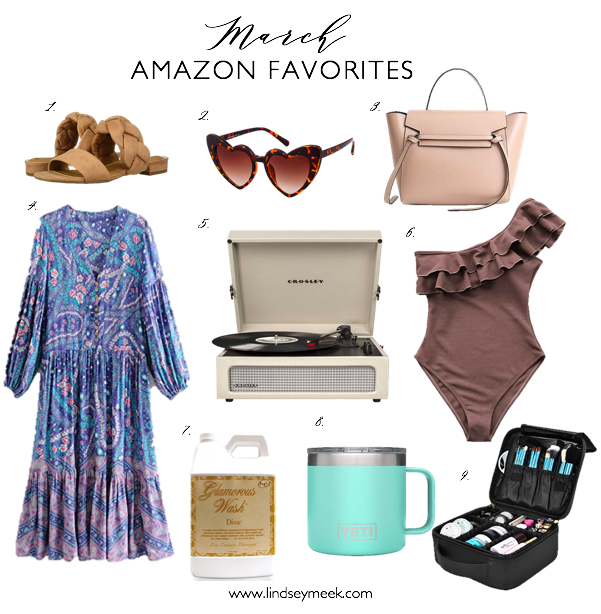 Do you all like seeing what other people are shopping on Amazon? I love a good Amazon haul! I feel like Amazon can be big and daunting when you are just browsing, so I hope this fun series helps you as you are shopping!
1. Sandals– I actually bought these last Summer and wore them all. the. time. I just noticed that they were restocked! They are the perfect neutral sandal that will go with absolutely everything you own! They also come in 5 different color ways!
2. Heart Sunnies– How fun are these Sunnies?! I originally bought them for Valentine's day, but have been reaching for them over and over. They add just enough fun to every outfit. They are a good alternative to spending $420 for the YSL Heart Sunglasses.
3. Nude Bag– I've been obsessing over this bag. It's giving me all the Celine Nano Belt Bag vibes and I think it will be on heavy rotation this Spring!
4. Maxi Dress– I'm on a dress kick lately and Im especially loving them paired with sneakers. I've already declared this pairing my Spring staple wardrobe. The colors of this one are so dreamy! I can't wait to get it in and style it for you all!
5. Record Player – On a whim last week, I decided we needed a record player. ha! Thankfully I found this Crosley Record Player on Amazon and we had it in 2 days! We ended up going with this model because it can also be used as a bluetooth speaker.
6. One Shoulder Bathing Suit – If you're looking for a modest bathing suit with coverage, but also one that is fun and flirty, this is it! I love the unexpected brown for summer and think it adds a level of chicness! I ordered a medium and I am very happy with the fit.
7. Glamorous Wash (Smaller Bottle here)- I keep screaming it from the rooftops. I love this laundry detergent! I started with the small bottle, because I have always had sensitivities to detergents with fragrances, but this one has been without issues! Yay! Laundry Tip: I stretch out each bottle by mixing 1-2 capsules with my All Free & Clean detergent.
8. Yeti Coffee Mug- This is a must have for every parent out there! In true Yeti fashion, it keeps my coffee hot all morning long, which is a must when you are getting everyone up, breakfast made and running kids to school.
9. Make Up Case– You may have seen this makeup case floating around and let me tell you, it lives up to all the hype! I love that everything has a spot and Im not digging around in a bag searching for my eyeliner!